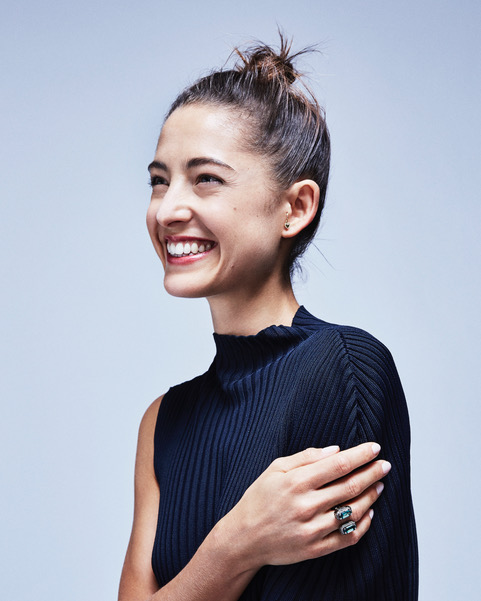 Who? Anna Karlin
Where? New York City
Inspiration? Everything and anything that taps her senses
Trademark Style? Interactions between nature and the manufactured
Signature Piece? Juliet Vessels
About Anna Karlin
On an unassuming block in New York's Chinatown, Anna Karlin has created a world of her own. Behind a plum-lacquered entryway, the multidisciplinary designer's curiosities live in a singular space — formerly a burn-out print shop that Karlin renovated to her bespoke standards. Within six months, Karlin was welcoming guests into her wildly creative universe. Reinvention isn't a novel concept for the self-taught designer. After all, she quit her position at prominent design firm in London two days after her start date, to begin anew as an art director and designer for the creative agency Marmalade. And following a move across the Atlantic, she became a furniture designer without any formal teachings.
"I really wanted to design some furniture, so I did," says Karlin matter-of-factly while sitting back in one of her own designs, the W chair — a contemporary interpretation of the traditional Shaker-style Windsor chair. "I was so used to working in temporary mediums, that I really wanted to do something permanent. It wasn't an answer to a brief. The creation was the brief, and that was important to me."
In 2013, Karlin debuted her first collection of furnishings, lighting, and objects at what is now the Beekman Hotel. While the selection spanned all mediums, including glass, ceramic, and wood, it remained aesthetically cohesive. "The material is dictated by a piece's form. First comes the design, and then it knows what material it wants to be," the London native explains of her process. As a result, her signature geometric Chess stools — which were originally inspired by milk churns — are finished in brass, while Karlin's organically-shaped Dimple lamp melds together handblown glass and Portuguese pink marble.
The artistic quality of Karlin's designs often drum up comparisons to living sculptures. "Sometimes people buy my pieces and put them in rooms without a lot of foot-traffic because they see them as artworks," says the designer. "But I encourage people to absolutely enjoy their functionality, like interactive art." And similar to fine art, her designs are sublimely luxurious, not only in terms of materiality, but also the thoughtfulness behind its composition. "I think luxury implies something special," she continues. "Dedication to any craft is special, and people are appreciative."
Shop The Entire Collection