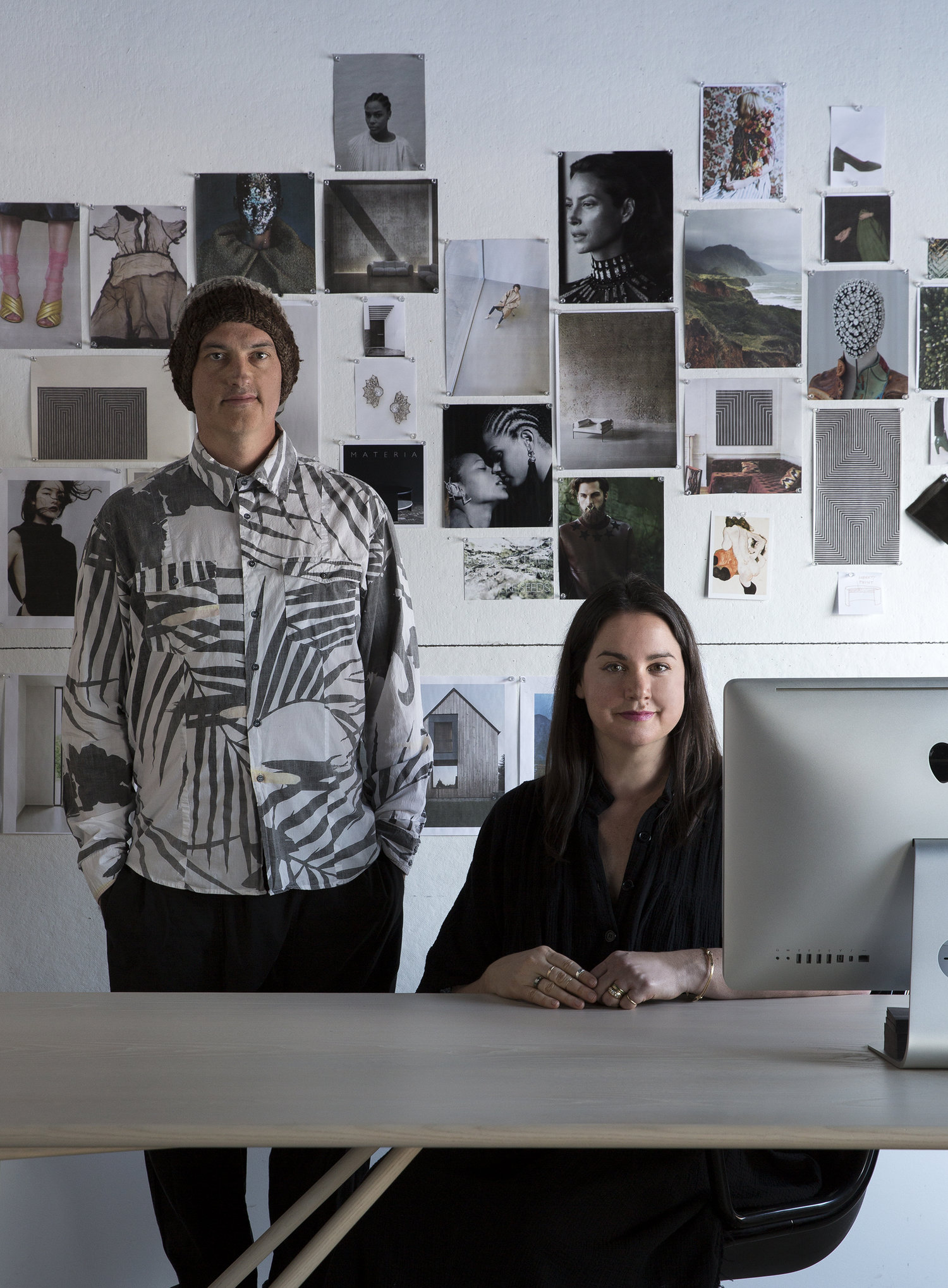 Who? Husband and wife team Megan Sommerville and Matt Ensner
Where? Accord, New York
Inspiration? Material exploration
Trademark Style? A delicate balance between the raw and refined
Signature Piece? Forchette Chandelier
About Materia
More than twenty years ago, designers Megan Sommerville and Matt Ensner met in a high school architecture drafting class in Asheville, North Carolina. "I remember she was the quiet astute student in the class, and I was bit louder and looser," says Ensner, who married and created the design studio Materia with Sommerville in the late-2000s. Fast forward to present day, and the couple's dynamic, at least when crafting their material-driven collection of furniture and lighting, has flipped.
With a background in dance and fashion, Sommerville has developed a discerning awareness of tactility and movement that leads the design direction of the brand's products. Meanwhile, Ensner, a trained landscape architect, focuses on the myopic details. "Megan is the driver of our creative vision," says Ensner. "I'm there to offer suggestions in terms of how we can refine the functionality and engineer the possibility of her ideas."
Together, they inadvertently embarked on their joint creative endeavor in 2005 while living in Brooklyn. During that time, Sommerville worked for a French fashion brand, while Ensner created custom wood furniture for interior designers and architects in addition to his landscape gardening projects. When designing, Ensner would often look to Somerville for input regarding a piece's proportion or scale, which established their design synergy.
The spatial limitations of New York prompted the pair to search for a space upstate, and they eventually landed in Ulster County — a bedroom community for creative types. There, Sommerville and Ensner opened a tiny 300-square-foot antique shop and renovated a 15-acre property with a separate studio space, which became the couple's laboratory for design ideas. "At first, Materia was born out of necessity," says Sommerville. "The house's renovation became a Petri dish for a lot of objects we still design today."
"It was a fabulous first workshop for us to experiment with new designs," adds Ensner. "And then we were able to live with the pieces to see how they performed or their patina developed over time. That material understanding has become really important for the objects we design."
After selling a custom wood table handcrafted by Ensner — the centerpiece of their antique store — the couple realized that there was interest for made-to-order furniture that wasn't necessarily bespoke. Slowly, they began adding more of Ensner's designs into the mix, transforming the shop into a gallery for his work.
In 2011, Sommerville and Ensner moved into their first showroom, devoting their energies to furniture and lighting — an addition to Materia's offerings three years later — that engage the senses through their raw craftsmanship. For example, the brand's signature L'Arc sconce balances the coolness of brass hardware with smooth calfskin, while one of their accent tables juxtaposes a blackened steel base with a lilac marble tabletop. "We like to work with materials that wear their heart on their sleeves," says Sommerville. "They show where they've been and that they've been used."
Sommerville and Ensner hope that level of materiality (and the luxury it conveys) will encourage people to slow down and appreciate the beauty of their designs. "Culture is so fast-paced these days that our lives are not set up to engage with our surroundings," says Ensner. "People don't spend a lot of time in the spaces where these objects live, but when they're there, are they willing to stop their other priorities and completely immerse themselves? If so, we achieved what we set out to accomplish."
Shop The Entire Collection